When we purchased the HY the interior was rather busy with gadgets for making life easy like shelves and small cupboards, chemical toilet and luxaflex blinds in front of every window.
Also a complete 220 volts and 12 volts circuit was installed with heaters, refrigerator, (spot)lights, radio and even TV antenna.

An impression of the interior after the purchase: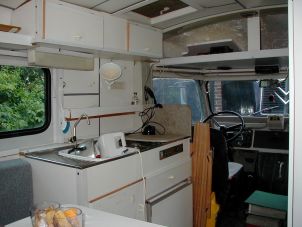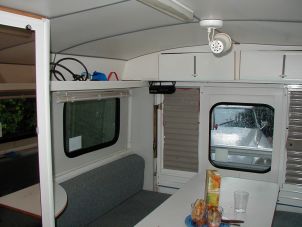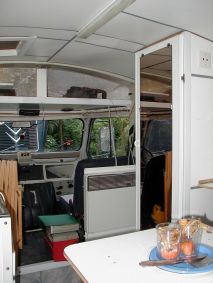 However as with house interiors new owners often refurbish to match thier taste. Same with the interior of the HY. I like an uncluttered interior which at least looks spacey (as far as an HY interiour permits). Furthermore through the extensive use of hard materials for isolation and panelling the car made a lot of noise when driving it (the material rubbing against each other). Therefore most of the interior is/was removed apart from the kitchen (to be done later) and the benches. The refrigerator was removed to increase cupboard space and reduce heat. The colour scheme is kept simple, al woodwork in the original colour of the bodywork to match the steel body panels. The disadvantage is that the storage space decreased considerably, however we like to camp with minimal luggage therefore the HY still provides plenty of storage space and comfort in our view.
The 220 volts electrical system was removed and the 12 volts secondary circuit was reduced to a 12V tube lamp and the water pump for the kitchen unit. The radio was removed because we did not like the overhead storage shelf, maybe in a later state it will return in a different location. Loading the secondary battery was originally done with a 220v charger. It will be done with a diode based splitter in the future to load the primary and secondary battery but this is not installed yet.
The status as of june 2006:
Things to be done in the future:
Sound dampening in the interior in the engine area.
Isolating the roof with a flexible sound dampening and temperature isolating material
Replacing the kitchen unit for a slightly smaller unit. The advantage would also be that the chair can be moved backwards a bit further to be able to improve my driving position.
Change the benches to better fit the rest of the interior